Health Literacy Champions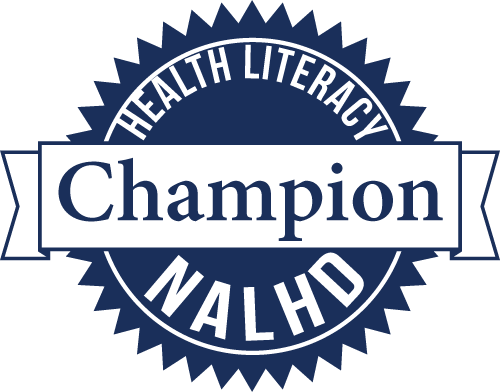 Are you a Health Literacy Champion?
NALHD has established a reputation for Health Literacy expertise and excellence.  In order to provide ongoing Health Literacy Quality Improvement support for Local Health Departments (LHDs) and their community partners, NALHD has created the Health Literacy Champion process. NALHD awards Health Literacy Champion designations based upon Health Literacy Check-ups and Action Plans. 
Why should you become a Health Literacy Champion?
Implement accreditation standards and goals —  The Health Literacy Champion process addresses strategies for meeting Public Health Accreditation Board (PHAB) Standards and The Joint Commission (TJC) Safety Goals.
Improve your organization's reach and effectiveness  — The Health Literacy Champion process helps your organization identify specific programs and projects affected by low health literacy and make a plan to address health literacy to improve the effectiveness of these initiatives. 
Target key opinion leaders with health literacy information — The Health Literacy Champion process poises your organization to brief policy makers, legislators, stakeholders, and other key decisionmakers on the importance of health literacy. Explain how health literacy relates to the organization's mission, goals, and strategic plan and how it can be incorporated into existing programs
Increase your organization's credibility — The importance of health literacy is gaining recognition nationally.  Through the Health Literacy Champion process, you will establish accountability for your health literacy activities.
Become a technical assistance provider in your community — NALHD members that earn Health Literacy Champion status may be eligible to subcontract for NALHD's OPIHL Project when NALHD is sought as a Health Literacy technical assistance provider.
Click here to contact NALHD to learn more about how your organization can achieve "Health Literacy Champion" status.