Health Literacy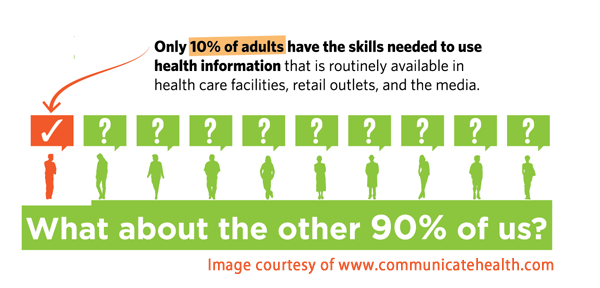 Most adults have trouble making sense of health information at one time or another.  Health Literacy includes the collection of skills that health care and public health providers need to clearly inform the public about health-related choices.  These skills are a key part of making the healthy choice the easy choice. 
Building capacity around health literacy has been a NALHD priority since its founding in 2010. Our early work under the Outreach Partnership to Improve Health Literacy was a 2015 NACCHO Promising Practice and was featured in the Institute of Medicine's 2014 Roundtable and Report, Implications of Health Literacy for Public Health.  
Today, NALHD continues its decade-long commitment to health literacy through its involvement in the Lincoln Multicultural Health Literacy Project. This 2-year collaboration between Lincoln-Lancaster County Health Department, NALHD, and the Cultural Centers of Lincoln is making health information more readily available to communities who need it with health literacy training, resources, and technical assistance to local health departments and their partners, statewide.