Nebraska Healthy Schools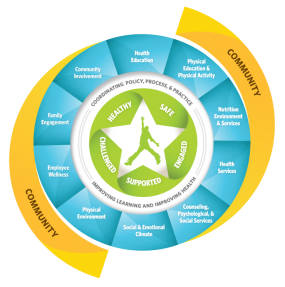 The Centers for Disease Control and Prevention (CDC) has awarded the Nebraska Department of Education (NDE) $365,000 (annually for five years) to improve the health of the state's kindergarten through 12th grade students. The project will improve student health and academic achievement through nutrition, physical activity, and the management of chronic health conditions in schools. 
Four Local Health Departments (LHDs) are developing capacity and supporting 8 priority school districts. They are...
Northeast Nebraska Public Health Department
Umo Ho Nation Public Schools
Wakefield Community Schools
Wayne Community Schools
Winnebago Public Schools
Panhandle Public Health District
Gordon-Rushville Public Schools
South Heartland District Health Department
Harvard Public Schools
Hastings Public Schools
East Central District Health Department
Schuyler Community Schools
NALHD is one of NDE's partners in this project, along with the Nebraska Department of Health and Human Services (DHHS), Children's Hospital & Medical Center, and the Society of Health & Physical Educators (SHAPE) Nebraska.
Resources
Click the links below for resources.
CDC Whole School Whole Child Whole Community (WSCC) page 
Nebraska Department of Education Coordinated School Health page
---