Vision and Eye Health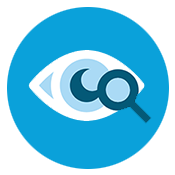 To learn more about this connection on a national and local level, click here to view the archived webinar that NALHD hosted on June 14, 2018 featuring Lori Grover, OD, PhD, and Nebraska's local health departments.
According to the Nebraska Department of Health and Human Services:
Quick Facts about Vision Impairment in Nebraska
56% of Nebraskans with vision impairment reported excellent, very good, or good health (BRFSS); 44% reported fair or poor health
18% of Nebraskans with vision impairment were delayed getting needed medical care due to lack of transportation, compared to 2% without visual impairment.
49% of Nebraskans with vision impairment have another chronic health condition such as arthritis, rheumatoid arthritis, gout, lupus or fibromyalgia
54% of Nebraskans who are visually impaired reported smoking every day or some days.
Resources
Click the links below for vision and eye health resources.
Nebraska Foundation for Children's Vision
Local optometrists who provide free infant vision exams
Local optometrists who provide 3-year-old vision exams
Translating Eye & Vision Health in Falls Prevention and Primary Health Care Recommendations
---